Welcome to the New and Improved
Superior Almond Hulling Website!
2013 has brought on many marvelous changes for Superior Almond Hulling and creating this brand new website is one of our biggest additions. We hope you can stay a while and look around at the many great features we have in store for you.
Here's a brief rundown of what you can look forward to:
The intro and landing page to our site welcomes you with an impressive slideshow of images and info about the Superior Almond facility. You'll find helpful links to the many great features of the site and you can easily navigate from here to our available resources.
Learn more about the Superior Almond family and find easy links to our Services as well as details about our facility. Services include: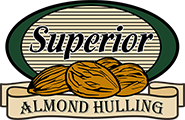 Here you'll find our News page that doubles as the company blog. The image-driven posts give us a chance to keep you updated on current news and developments at our facility, as well as information on the almond crop.
Got a question for Superior Almond? Here's where you will most likely find the answer, along with handy links to Contact Us. Growers can also access their Crop Processing Info.
This section gives you information on how we coordinate your harvest activities with ours, including truck info, data entry, product quality, process reporting and food safety.
Growers and clients can access their reports anytime online for both current and past year's deliveries. Reports are updated in real time as loads are received, nuts are processed, and shipments are released.
While this is a lot of great information, there are still many more new features that are in the works, so stay tuned to find out what's next!
From the Superior Almond family, we'd like to Thank You for visiting our website.