Field Tickets – Identifying Your Deliveries
Complete and accurate information for each delivery is very important to us.  Here is a copy of our field ticket: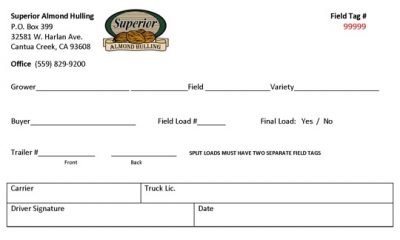 Grower/Field/Variety
Along with the tag number, this is the core identifying information required making this load exclusive from the many loads we receive each day. One of the frequent errors we see is that the field name may not match the records we have on file for you. Make sure that your harvester uses the same field name or numbering system that you do.
Buyer:If the field, variety or entire crop is assigned to a single buyer, enter the buyer's name here. If unsold or not specifically assigned, indicate that the load is unassigned.
Field Load #
You can enter the number of loads harvested from each field sequentially. Superior Almond uses this numbering in the same way you do to track the total loads received from each field.
Final Load
Lets us know when you complete the harvest at one field before moving on to the next. Useful for scheduling trailers as well as stockpiling and processing.
Trailer #
Enter the number of each trailer, front and rear. Superior trailers are marked on the front, back, and sides with a trailer unit number (i.e. S-1204A, S-1204B).
Split Loads
If the set of trailers is split between two different fields or varieties, use a separate tag for each trailer (two tags). The combined load will be received as separate loads from each of the locations.
Carrier/Truck Lic./Driver Signature
This information is normally filled out by the driver when the trailers are picked up.