Hulling Agreement & Instructions For Processing
Under the Hulling Agreement between Superior Almond Hulling and the grower, the instructions are outlined for receiving, processing and shipping the almonds.
It is critically important to be able to identify each load received by its owner, field and variety. This allows us to track each lot separately and eliminates the possibility of losing the load's identity or mixing it with another field or variety. Refer to the Field Ticket section for detail on keeping your loads correctly identified.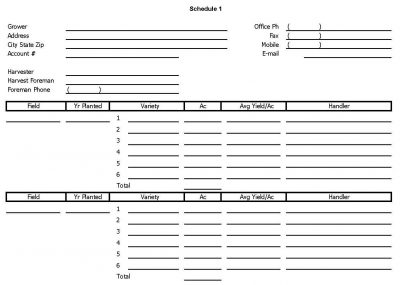 The Hulling Agreement includes Schedule 1 (as seen above), which defines the fields and varieties for each grower. Processing instructions can also be provided here by the grower according to his choice of almond buyer(s). This information can include inshell commitments to buyers, shelled meat contracts and quantities sold.
Processing Protocol
As the almonds are processed, bins or bulk shipments are filled and assigned to an almond handler according to the grower's contract(s). Once processed by Superior, almonds are shipped to their pre-assigned destination immediately. No finished products are held on site.
The security of the processed almonds is insured by 24 hour onsite personnel and by the release of shipments to the proper handlers.
Fee schedules are determined annually for both processing and transportation on the Hulling Agreement, Schedule 2.  The current year schedule will be published on the website when available.