Receiving – Processing or Stockpiling
Based on the number of loads received per day and the varieties being delivered, some loads will be processed as soon as they arrive at the plant. It's important to let us know your daily schedule so that we can plan for your deliveries. As soon as the almonds are hulled and shelled, they are assigned to the handler of your choice and are immediately available for shipping.
Stockpiles
Stockpiles are kept separate for every grower's fields and varieties. We maintain enough separation between stockpiles to allow for loading equipment access and fire safety. Each load in a stockpile has its own tracking number, and the stockpiles are numbered by location to provide traceability at all times.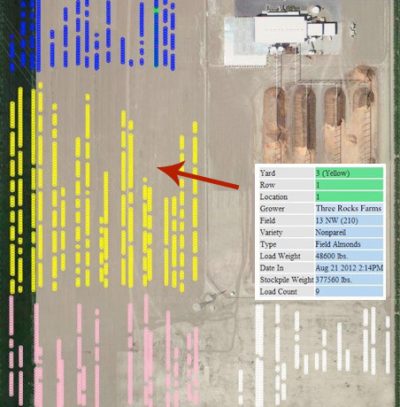 At Superior we are even tracking each stockpile by GPS coordinates to enhance the positive identification of loads and to ensure accuracy when we pick up the stockpiles. See on the above image, the red arrow points to a specific stockpile and shows its unique details.
Grooming Process
Every stockpile is groomed to smooth out the peaks and valleys, remove sticks, then covered with tarps to protect it from the weather. Moisture levels are monitored to determine the suitability for storage, and to help prevent moisture damage.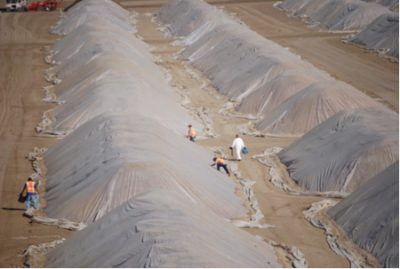 All stockpiles (except for organic almonds) are treated for insect control using fumigants immediately after the stockpile is completed.
No one takes better care of your nuts than Superior Almond Hulling!